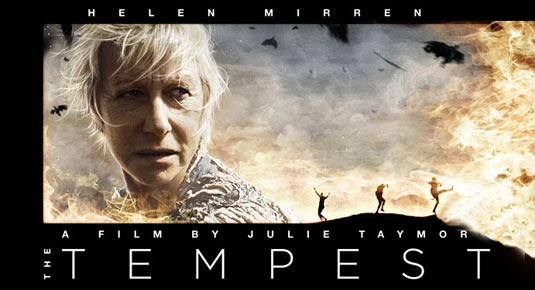 I finally had a chance to see Julie Taymor's adaptation of William Shakespeare's
The Tempest
. Taymor has previously adapted Shakespeare for the screen with
Titus
, her 1999 adaptation of the gory revenge tragedy,
Titus Andronicus
.
The first noticeable change Taymor makes to Shakespeare's play is that of making the dethroned Duke and part time sorcerer Prospero a woman, Prospera, played by Helen Mirren. People have complained about this, "But this doesn't fit the thesis I wrote about gender roles in
The Tempest
." However, Taymor wasn't writing a thesis, she was looking at the text with a fresh set of eyes. Mirren is incandescent in the role, full of rage and sorrow.
The rest of the casting is fantastic as well, Ben Whishaw as Ariel and Felicity Jones as Miranda stand out especially. Russell Brand appears as Trinculo, a jester sort of role. He plays Trinculo as Russell Brand, if you don't find him particularly funny, you won't enjoy his scenes very much. In my opinion, he was the one low point in the casting.
Djinmom Hounsou's portrayal of Caliban, like Helen Mirren's Prospera, add new shading to the roles and the play over all. In moments between Prospera and Caliban the sense of imperialism or western colonialism in general seems to be an undertone; the ruling invader speaking to the native, holding power over them. The role of Prospero as a woman brought in the idea the undermining of women's inheritance and legal power and, of course, the witch trials common of the era.
As usual, Taymor's visuals are stunning and artistic. Whishaw's Ariel, the airy spirit, transforms through many of the scenes. From a sheer, snowy white figure able to split himself into several portions, to a terrifying black crow, glistening and winged hovering over the King and his men, driving them mad, each scene presents a new visual landscape which Whishaw and Taymor fully embody.
Toward then end, some of the surreal visuals of the hell hounds chasing Stephano, Trinculo, and Caliban looks vaguely video game like. As one of Shakespeare's later comedies, it is very dark and Taymor struggles to bring out the moments of comedy from within the play with such visuals as well as a very modern sounding musical score under these parts. It is difficult for her to capture what is humorous about these characters in this sublot on film.
In typical Taymor fashion, nothing is completely straight forward. Though the costumes of the nobles that are shipwrecked on the island are grounded in the 17th century, there is a gothic, punk-rock feel. All of their doublets are black festooned with zippers and metal. The belts and boots also have buckles and marks that would make them more appropriate for the grunge movement than the late Elizabethan era. Her costumes are like wink to the audience, reinforcing her point; it's Shakespeare, but filtered through a modern lens.
Shakespeare is different from most literature you probably read in school. It is also (and in my opinion, primarily) theatre. Literature is a more stagnant art form, but theatre is constantly moving and shaping and being collaborated on. If you aren't going to add anything new to the conversation, why bother directing Shakespeare? Taymor is always brave and always willing to experiment which makes her a director worth watching. Some of her experiments are more successful than others, but
The Tempest
represents mostly success.