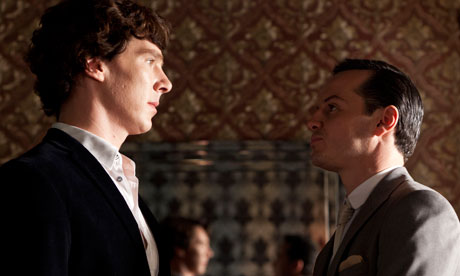 On Sunday, The Reichenbach Fall, the series 2 finale of
Sherlock
aired. Based off Doyle's story "The Final Problem" (a title which is referenced several times in the episode), the episode opens with John back at the therapist's office. He tells his therapist he's come back after all this time because his best friend, Sherlock, is dead.
From there we get the story filled out. Sherlock steadily gains more and more media exposure through John's blog and the solving of several high profile cases. John warns him that this might be dangerous. Meanwhile, Moriarty is back with the ultimate plot. He has a computer code that can open any security system. He simultaneously breaks through the security of The Tower of London, The Bank of England, and Pentoville. It's going to be the trial of the century and Sherlock will be the main witness for the prosecution.
The episode was a fantastic cap for the season. It was great to have more screen time for Andrew Scott as Moriarty. This version of Moriarty is certainly unique, but he's always exciting to watch. His Moriarty is brilliant, unpredictable, and relishes the game so much. He's delicious to watch, and he scenes between Sherlock and Moriarty are extremely powerful. Their verbal chess match towards he end of the episode contains several surprising twists. Scott's versatility comes through and there's a scene about an hour into the episode where he might make you momentarily question your sanity.
This episode lets us see Sherlock at his most desperate. This whole season has been about uncovering his vulnerabilities, finding what's really important to Sherlock and this episode takes that even farther. By the end of the episode you may have to disagree with Sherlock's earlier assessment that "Heroes don't exist, and if they did I wouldn't be one of them."
It was Martin Freeman's performance, however, that really made the episode. Give that man another BAFTA. His ability to emote, but emote in a controlled way that would be appropriate for John Watson, the soldier and doctor, is so subtle and deft. It's heartbreaking to see him in pain, more heartbreaking when he tries to be strong about it.
The series as a whole definitely lived up to expectations. The success of the first season gave the writers more license to push boundaries and experiment, some experiments were more successful than others, but they were always entertaining.
The direction and overall cinematography put this leagues above any other show on television. The transitions between scenes are always visually interesting and cleverly done. The creation of atmosphere, whether in on the moors, or in the middle of London, grab hold of the viewer. They found even more interesting ways to visualize Sherlock's thought process this season as well-- the "Mind Palace" sequence from Hound was definitely a highlight, and possibly a new dance move.
The end doesn't leave on as painful a cliff hanger as the first season, but will leave fans eager for more, and indeed, a third season has been commissioned. Unfortunately it won't arrive until 2013 due to the filming of
The Hobbit
which Martin Freeman stars in with Benedict Cumberbatch supporting as Smaug.