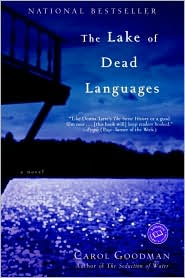 Jane returns to Heart Lake, the boarding school she won a scholarship to as a freshman in high school. After divorcing her husband, she gets a job at the school teaching Latin, but her past won't let her go.
Her senior year, her two roommates, Deidre and Lucy, as well as Lucy's brother, killed themselves. The lake holds so many memories for Jane, most of them bad. When the events from her senior year seem to be occurring again, Jane is the only person that can unravel the threads linking the past to the present.
This book is eerily similar to Goodman's
Arcadia Falls,
but at the same time, a much better book. The setting of a boarding school with its atmospheric woods and equal parts beauty and danger, are the setting for both these novels.
The Lake of Dead Languages
is a highly atmospheric book with a suspenseful plot. However, the suspense dwindles around the middle of the book where it becomes obvious what all the plot twists will be. There are very few surprises in the latter part of the book. One keeps reading just to make sure they are correct and hoping for a new turn that makes it exciting again. Unfortunately, that doesn't happen.
Goodman assumes the sophistication of her audience, peppering it with classical allusions, thoughtful comparisons, and plenty of Latin phrases. This is refreshing when compared to authors who write down to their audiences with 6th grade vocabulary. Some of the comparisons of within the story to the writings of Ovid and others do seem a little indulgent.
I would still recommend it for fans of modern gothic literature. Part of me wants to read more of Goodman's writing because of her lushness of language. The other part is afraid I'll be stuck in the same story for the third time.